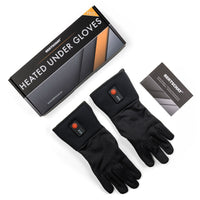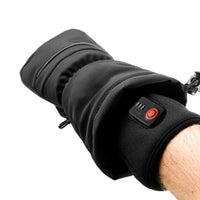 Heated Under Gloves PRO | USB
BERTSCHAT® has launched its new PRO edition heated under gloves. The under gloves are 100% stretch polyester, which means they fit under all other (work) gloves. The heating area covers the entire back of the hand up to the fingertips, so you no longer have to experience cold hands during your outdoor activities.
Temperature regulation
You can set the desired temperature by simply pressing a button. The heated under gloves are adjustable to three different heat settings and can reach a temperature of 68 degrees. Due to the three heat settings, you will always be able to set the desired temperature for your purposes.
Powerful Batteries
The powerful 2,200 mAh batteries can be easily connected to the under glove in the designated compartment. The zip for the compartment has been tactically placed on the side of the wrist so that it does not get in the way. The batteries are small and lightweight, and do not affect the suppleness of the under gloves. Do you want to heat at the highest setting for a long period of time? If so, an extra battery pack will be needed.
Standard Pack: one battery pack with two 2,200 mAh batteries is supplied with your under gloves as standard. Do you want to heat longer or do you need an extra set? Then buy an extra pack at a reduced price with the Extra Powerpack.
Extra Powerpack: would you like to heat for twice as long? That is possibleif you choose this battery pack. By doing so, you will receive two battery packs with four batteries (2,200 mAh at 7.4V).
Suppleness
The under gloves are made of 100% stretch polyester, which means you can easily wear them under a (work) glove. You can also wear the under gloves on their own, for example when driving, walking or working around the house. While work gloves offer protection against wear and tear, winter gloves offer an additional insulation layer in extremely low temperatures.
Suitable for:
Under gloves are suitable for a whole range of activities. For example, under gloves are used when playing golf, hunting, hiking and driving. This under glove is ideal for people who are required to wear work gloves. They can keep their hands warm by wearing under gloves under their work gloves. The under glove is also ideal if you already have good (winter sports) gloves, as they provide an additional insulation layer, which increases the warming effect.
Are you interested in the entire range, click here for all heated gloves.
What is the right size for me?
The gloves are stretch and therefore always fit! If you measure your hand circumference like the image below, you can immediately see which glove suits you best:
Size M: Most chosen by women
Size L: Most chosen by men
| | | |
| --- | --- | --- |
| Size: | Middle Finger Length (CM) | Circumference (CM) |
| XS | 7.5 | 15 - 16 |
| S | 8 | 16 - 18 |
| M | 8.5 | 18 - 20 |
| L | 9 | 20 - 22 |
| XL | 9.5 | 22 - 24 |
| XXL | 10 | 24 - 26 |
 Features:
Including: 2 (or 4) x 7.4V 2,200 mAh extremely thin batteries + charging system 
Material: 100% stretch polyester, and soft.  
Carbon fibre heating elements
Heating time: up to 8 hours on a single charge. 
Fits under any glove
Touch screen
Washable & Durable
Ultra-thin and supple
Unisex model.
Heating up to 68 degrees.