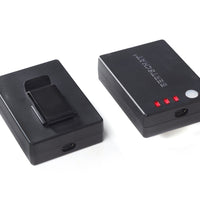 Extra Battery Pack 3.800 mAh - Heated Insoles: Ultra Power
Do you already own a pair of Ultra Power heated insoles, but they run out of energy sooner than you'd like? Conveniently order an extra battery pack. This battery pack is compatible with the insoles with external battery from BERTSCHAT®s Ultra Power line®.
The battery pack is equipped with a USB charging cable, allowing for easy charging on the go using a power bank. Don't own a power bank? We offer them at a discount in our combi deals.
Contents:
2x 3.800 mAh, 7,4V
Duo USB charger
Manual
Dimensions battery pack 80 x 55 x 20 mm
Please note: this battery pack only fits the BERTSCHAT® Heating insoles - Ultra power!