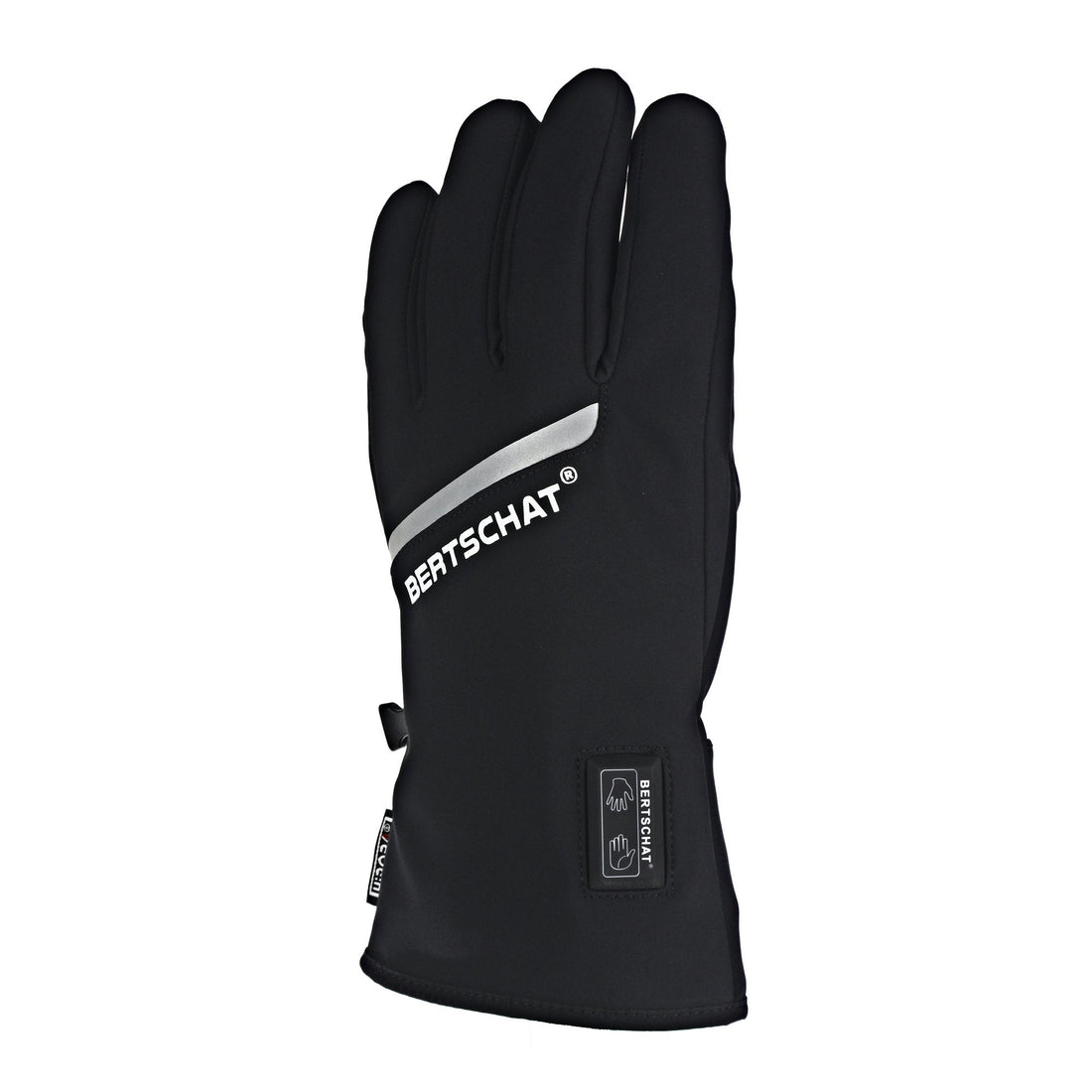 Heated Bicycle Gloves PRO - Dual Heating | USB
Are you an avid cycling enthusiast, but winter temperatures prevent you from cycling all year round? From now on, this is a thing of the past! BERTSCHAT® has designed a new PRO cycling glove that will protect you from the cold during your bike rides. In addition to being windproof and waterproof, these cycling gloves feature the unique Dual Heating technology. Therefore, both sides of the hand are heated.
Always at the ideal temperature
Both sides of the hand are independently heated and adjustable at different intensities. They have three different heat levels, allowing you to always set the appropriate temperature. Simply press a button to adjust the desired temperature. The heating wires extend all the way from the wrist: going from the palm to the fingertips and from the back of the hand to the fingertips.
High-quality material
This PRO edition from BERTSCHAT® is equipped with a water-repellent and windproof layer, allowing you to enjoy warm hands even in the rain. The cycling gloves are flexible for easy gear manipulation. Thanks to the additional protection on the palm, you'll always have an excellent grip on the handlebars.
Inside, the gloves are equipped with a breathable HIPORA® membrane. This is a waterproof and breathable layer that prevents water from entering the gloves while allowing moisture from the inside to escape, keeping your hands dry.
Ultra-powerful batteries
Under optimal conditions, these cycling gloves can reach a temperature of over 65 degrees Celsius and feature two large heating surfaces. For this reason, these gloves require extremely powerful batteries. The set comes with a pack of two 7,4V – 2.600mAh batteries (charger included), allowing you to heat your hands anywhere between 1.5 to 8 hours depending on the selected temperature. If you want to heat your hands for a longer period or if you plan to use them in extremely cold temperatures, you can opt for more powerful batteries of 3.000mAh or even 3.800mAh.
We also offer the option to purchase an additional battery pack, allowing you to heat your hands indefinitely. The batteries are rechargeable via USB, meaning you can easily recharge them using an external battery with a USB connection.
Looking for gloves with more insulation? Check out the entire range of heated gloves or all heated cycle gloves here.
Features:
Includes two rechargeable batteries (7.4V 2,600, 3,000 or 3,800 mAh) and charger.

Two large heating elements covering the entire hand, including fingertips - Dual Heating

Wind & Waterproof Layer

Hipora®

 waterproof and breathable membrane.

Touchscreen compatible: you can use your phone/tablet with the cycling gloves.

USB-

 rechargeable

Extra protection 

for optimized grip.

Waterproof zipper with lockable compartment for batteries.

Smooth: 

ideal for operating your bike/scooter. 

Up to 8 hours of heating on a single charge

Unisex model
Which size do I need?

The right size for your gloves can be measured easily. Spread your fingers as shown on the picture and measure the circumference.
Size M: Most chosen by women
Size L: Most chosen by men
| | | |
| --- | --- | --- |
| Size: | Middle Finger Length (CM) | Circumference (CM) |
| XS | 7.5 | 15 - 17.5 |
| S | 8 | 17.5 - 20 |
| M | 8.5 | 20 - 22.5 |
| L | 9 | 22.5 - 25 |
| XL | 9.5 | 25 - 27.5 |
| XXL | 10 | 27.5 - 30 |
| XXXL | 11 | 30 - 32.5 |