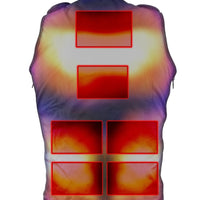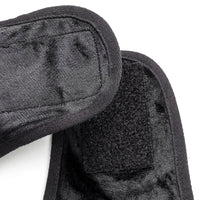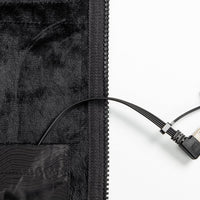 Heated Bodywarmer - Dual Heating | USB
Newly launched by BERTSCHAT® the bodywarmer with Dual Heating. It has twice as many heating zones as the old model! Thanks to the ten heating zones, you never have to experience cold again. This will warm up your entire torso. The vest is adjustable on both sides and shoulders. Ideal for under a work coat, motorcycle jacket, winter jacket or while walking, cycling or any activity where you experience cold.
Heating zones
The bodywarmer has ten heating zones. This makes it the warmest bodywarmer available. The ten large heating zones are located at strategic points The heating zones are on both front and back, four by six. Wondering where exactly? Check out the product photos. Your upper body is heated perfectly. On the inside of the bodywarmer are two pockets, each of which can hold one power bank. Each power bank is responsible for five heating areas. Two powerbanks are included when ordering the bodywarmer so you can use all heating areas to their full potential.
Controlling temperature
On the inside of the bodywarmer two buttons are located. With these buttons you can control the heat areas and the temperature. Do you want maximum warmth? Then you can switch on both areas with one push of the button. You can adjust the temperature by means of three heat settings. The temperature of 68 degrees can be reached at the highest setting.
Choice of battery pack:
As you can see, you have two options. Below is a further explanation.
Standard pack: This pack consists of two powerbanks á 10,000 mAh. You will have two powerbanks at your disposal and these two powerbanks will supply all elements with energy.
Extra Powerpack: This pack consists of four 10,000 mAh power banks. Do you want to heat for longer? Then the extra power pack is a logical choice. You will then receive four power banks. This means you will have an extra load of charging capacity available at any time.
Do you use the Bodywarmer in a cold environment and want to use it for a longer period? Then we recommend purchasing the Extra Powerpack. This allows you to heat non-stop.
Are you interested in the entire range, click here for all heated body warmer.
Designed for:
The bodywarmer is ideal to wear under clothing, for example under your sweater or (work) jacket. This also provides an extra layer of insulation, which increases the warming effect. The vest is suitable for everyone who experiences cold during any activities such as: hunting, athletics, hiking, cycling, winter sports or riding a motorbike.
Features:
Includes: powerful power bank (2 or 4 x 10,000 mAh) + USB charging cable. 
Ultrathin: ideal to wear under your existing sweater or (work) jacket.
Ten large heating zones (unbreakable Carbon Fibre)
Adjustable in three heat settings
Material: PU water/wind proof layer + 100% polyester extra soft, warm inner layer.
Up to 10 hours of heating on a single battery charge.
Unisex model
Size chart:
The BERTSCHAT® Bodywarmer is adjustable in size, through the push buttons on the shoulders and the zipper on the sides. The bodywarmer comes in two different sizes.
Fit 1: suitable for sizes XXS to M
Fit 2: suitable for sizes M to XXXL
Choose the size you always wear; this size is guaranteed to fit! Do you have size Medium? Then both sizes will fit you. When you are taller than 1.70 meters, we recommend Fit 2 because it is longer is.