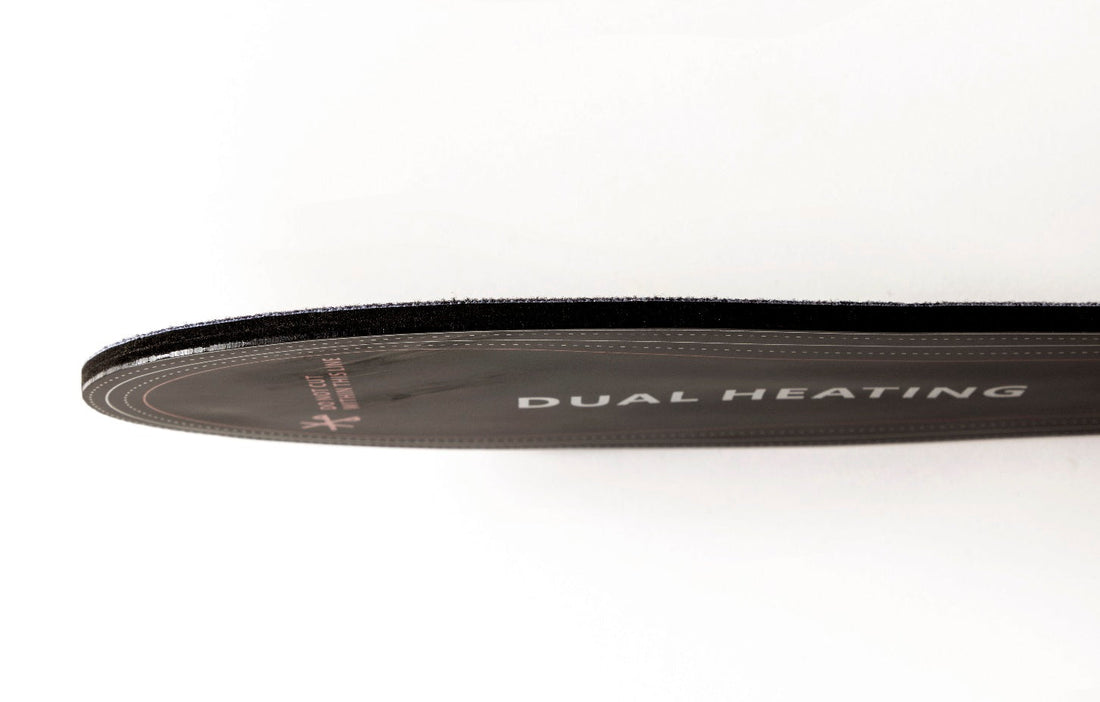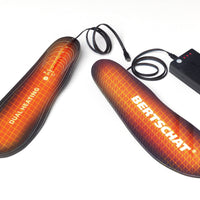 Heated Insoles – Extra Thin – Dual Heating | Ultra Power
The thinnest possible heated sole with maximum heating surface? That's what this BERTSCHAT® Ultra Power heated insole is all about! With this Dual Heating version, you have twice as many heating zones compared to other insoles. Thanks to this new technological development, the entire sole is heated. Being only 4 mm thick, it's a sure fit in any type of shoe.
Unique heating area
The heating area covers the entire sole, thus truly heating the entire footbed. We recommend wearing well-insulated shoes, as this enhances the heating effect by conserving the generated warmth.
Always the perfect temperature
With the remote control, which is included, you can control the temperature in three different heat settings. You have a choice of three settings: low (1), medium (2) and high (3). Especially on the highest setting, in well insulated shoes, the temperature can reach unprecedented levels of warmth.
One size fits all
The sole can be cut to size. Located on the bottom of the soles are cutting lines, allowing for trimming from men's size 13 all the way down to women's size 3. Easy to install and remove, they are truly compatible with any type of shoe.
Battery and mechanism
Because the sole is so extremely thin - 4 millimetres - an external battery is included. This powerful battery has a capacity of 3,800 mAh at 7.4 volts. This makes the battery up to four times more powerful than comparable models currently on offer.
The battery can be attached to your shoes by means of a clip. If you prefer to have the battery out of sight, that is possible with an extension cable. This allows you to easily carry the batteries in your trousers or jackets pocket. We offer the extension cables for a discounted price of £ 10,00 when selected through our combi-deals.
USB-Rechargeable
The included batteries are USB-rechargeable. This allows you to charge them on the go. On a single battery charge, you can heat for up to 16 hours. If you would you like to heat longer consecutively we offer an additional set of batteries separately.
Suitable for:
Because the soles are extremely thin and flat, they are suitable for all shoes. From sports shoes to hiking boots and cycling shoes to ski boots.
Do you prefer a sole with built-in battery? Click here for all heated insoles.
Good to know:
Wearing heated soles and clothing indoors allows you to turn down the thermostat? You no longer need to heat the entire room. This to the benefit of your energy bill.  
Features:
Battery life: up to 16 hours
Temperature: up to 80 degrees
Suitable for all types of shoes
Ultra flat sole (4 mm)
USB- rechargeable
One size: size 36 to 48
Remote control
Extremely powerful batteries 3,800 mAh, 7.4V. (Dimensions: 8 x 5.5 x 2 cm)
Built-in temperature sensor for optimised foot climate and maximum efficiency.
Unisex model
Durable
Energy-saving