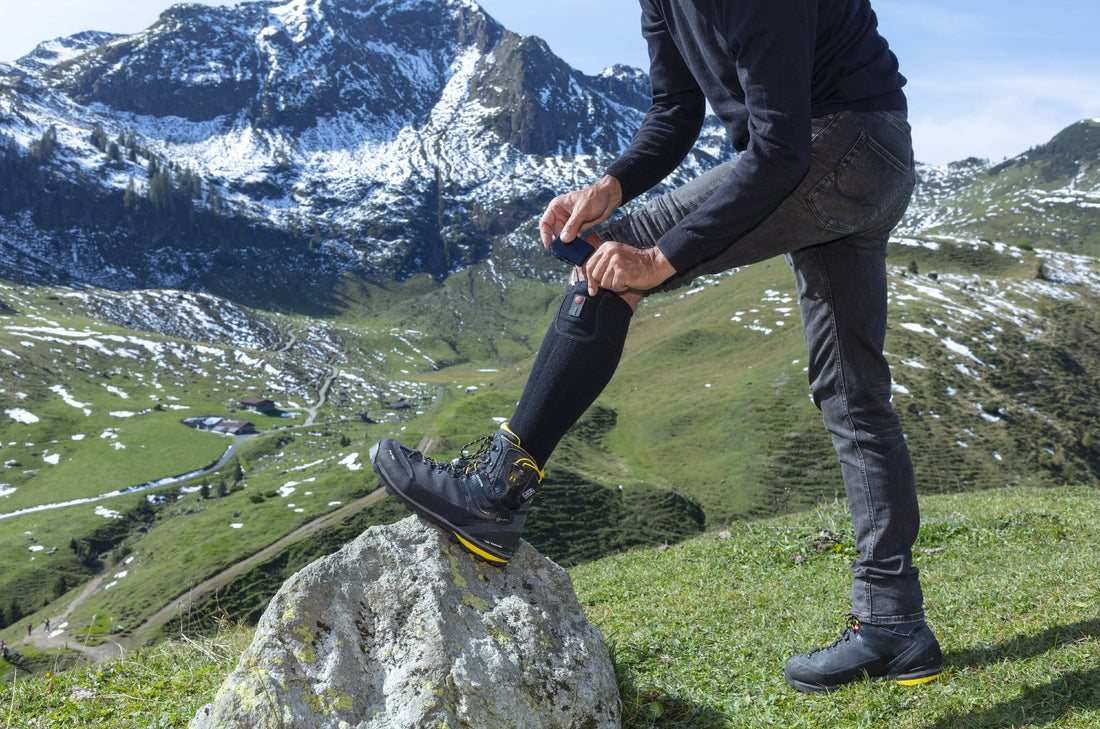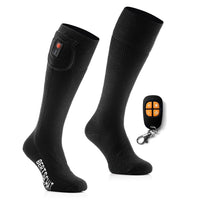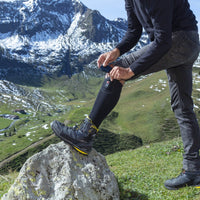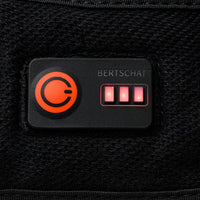 Heated Socks PRO - Long Edition | USB
The BERTSCHAT® PRO edition Electric Socks are the latest model of the year. These socks offer the largest possible heating surface and ultimate fitting comfort, and come with the most powerful and comfortable batteries possible. These electric socks are a guarantee for warm feet on cold days.
Temperature regulation
You can easily regulate the temperature of the socks in three different heat settings using the supplied remote control. This means you can always choose the temperature that best suits your purposes. The heating wires of the electric socks can reach a temperature of 68 degrees.
Heating area
The heating area covers the entire forefoot area: the bottom, toe area and top. If this part of your foot is warm, the rest will follow naturally. This is the only sock with the largest heating area that is technically possible.
Powerful batteries
Due to the large heating surface and a high setting, an enormous amount of energy. That is why these electric socks are only supplied with top quality batteries. You can choose between 2,600, 3,000 and 3,800 mAh batteries. The 3,800 mAh battery has 50% more capacity and can therefore heat for a longer period of time.
If you want to heat for a longer period of time at a high position, we recommend the 3,000 or 3,800 mAh batteries. You can also choose to order an extra battery pack, which will allow you to heat non-stop. The batteries can be easily charged with the provided USB charger. This means you can also charge them with a power bank when you are on the move.
Suitable for:
These electric socks are suitable for all purposes, such as hiking, cycling, outdoor work, gardening and winter sports, and of course, for people who suffer from cold feet, chilblains or Raynaud's syndrome. These are the warmest socks available.
Do you prefer a shorter version of the socks? Then take a look at our entire range of heated socks.
Features:
Including: extremely powerful 2 x 2,600, 3,000 or 3,800 mAh 7.4V batteries, USB charger and remote control.
Material: 80% cotton, 12% Nylon and 8% Elastane
The top, bottom and toe areas are heated
Heating up to 68 degrees
USB rechargeable
Operation with remote control
Unisex model: for both women and men.
Up to 10 hours of heating on a single charge.
| | |
| --- | --- |
| UK SIZE | EU SIZE |
| 2.5 - 5 | 35-38 |
| 5.5 - 7 | 39-41 |
| 7.5 - 9.5 | 42-44 |
| 10 - 12 | 45-47 |