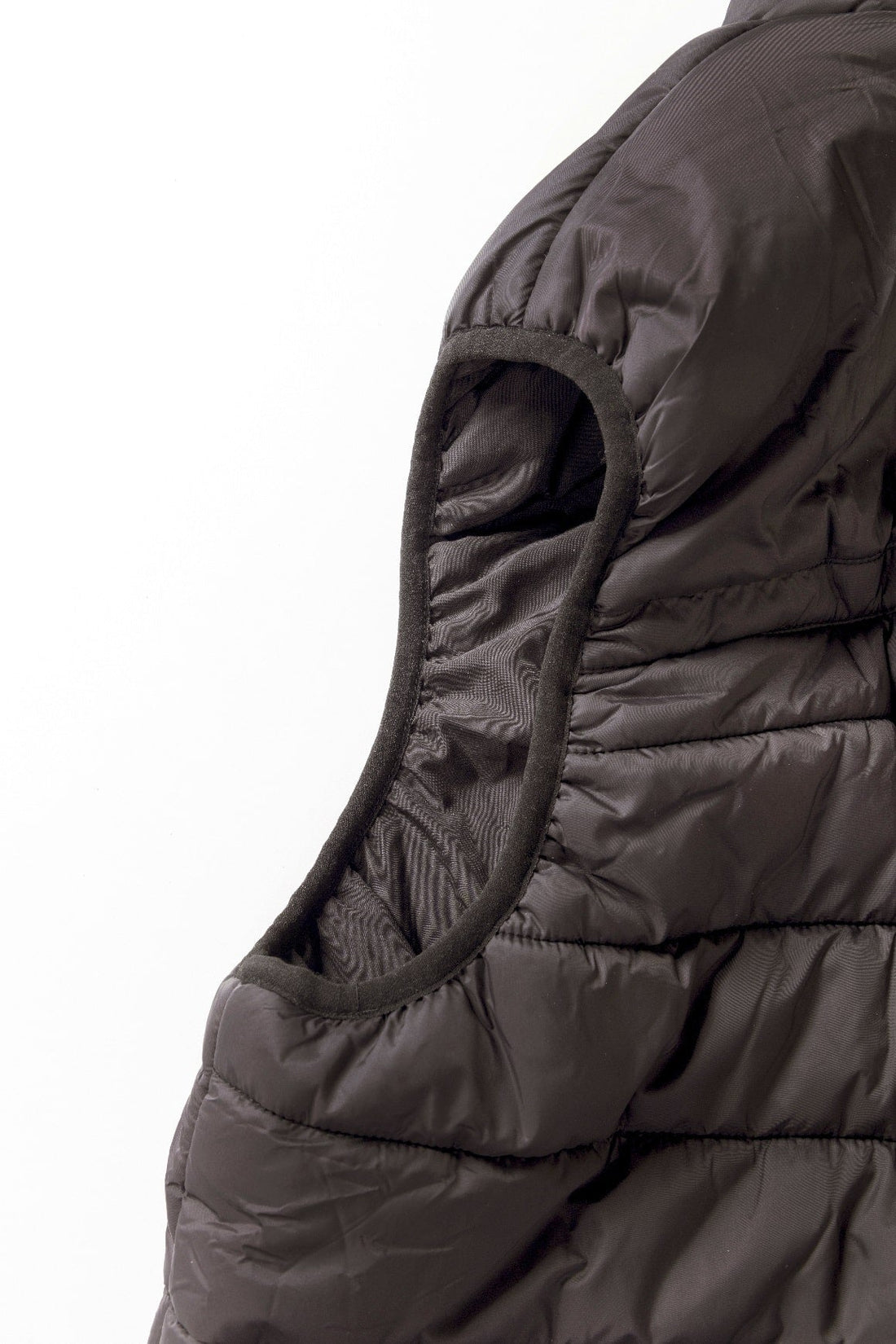 Padded Heated Bodywarmer Men - Dual Heating | USB
Perfect for a walk in the countryside: the padded bodywarmer from BERTSCHAT®. The bodywarmer comes standard with two powerful powerbanks that provide energy to the ten heating zones, offering heating for the entire upper body.
Heating zones
This padded body warmer has the maximum possible number of heating zones: ten separate surfaces in total! The heating zones are distributed across the body warmer: four at the front and six on the back. This many heating zones calls for powerful power banks. Two powerful (10,000 mAh) powerbanks are included as standard, each one plugged into its own zipped pocket. Each power bank provides energy for five separate heating zones (2 front and 3 rear).
Regulating heat
On the outside of the body warmer next to the logo are two buttons. A simple press on the button turns on five zones; pressing the other button will activate the other five heating zones as well. When turned on, the padded body warmer is instantly set to the warmest setting (red). With a simple push of a button, you can switch between the three heat settings. In optimal conditions, the heating zones can generate temperatures up to 68 °C. You can use the padded body warmer perfectly as an outer layer, just keep in mind when dealing with strong wind or freezing temperatures the heat can dissipate quickly. With extreme temperatures, you can overcome this by pulling an extra layer of insulation in the form of a jacket over it.
Choice of battery pack:
We offer two choices battery packs:
Standard pack (up to 8 hours of heating): This pack consists of two powerbanks with a capacity of 10,000 mAh. You have access to two powerbanks and these two powerbanks supply all elements with energy.
Extra Powerpack (up to 16 hours of heating): This pack consists of 2+2 powerbank, each with a capacity of 10,000 mAh. Do you want to heat for longer? Then the extra power pack is a smart choice. You will receive four powerbanks in total. This means you have an extra load of charging capacity at your disposal. If the first two powerbanks are empty, no problem. You can swap them out for the spare powerbanks.
Do you use the Bodywarmer in cold environments and want to use it for longer periods of time? Then we recommend purchasing the Extra Powerpack, allowing for non-stop heating.
Suitable for:
The padded body warmer is not only warm but highly fashionable. Perfect for a hike or bike ride: the padded bodywarmer is a good addition to the existing outfit for people who work or exercise outdoors for longer periods of time as well.
Did you know:
Wearing heated clothing indoors allows you to turn down the thermostat? Since you no longer need to heat the entire room, this greatly benefits your energy bill.
Features:
Includes: powerful power bank (2 or 4 x 10,000 mAh) + USB charging cable.
Padded: fashionable and warm.
10 large heating zones (unbreakable Carbon Fiber)
Adjustable in three heat settings
Material: PU water/windproof coating.
Up to 7-8 hours of heating on a single battery charge. 
Men's-model
Durable
Energy-saving
Looking for another model? Go to our category page: heated body warmer
Size chart:
BERTSCHAT® uses European sizing, for that reason you can choose the size you normally order. When in doubt, feel free to contact us, or consult our size chart below.
| | | | | |
| --- | --- | --- | --- | --- |
| Size: | Width A: | Length B: | Waist C: | Arm's Length D: |
| S | 51 | 65 | 50 | 61 |
| M | 53 | 67 | 53 | 62 |
| L | 56 | 68 | 55 | 63 |
| XL | 59 | 70 | 57 | 65 |
| XXL | 61 | 73 | 60 | 66 |
All sizes are in cm.